Pumps That Outlast All Others
Pumps 2000 offers a wide range of patented, non-metallic Pneumatic Diaphragm pumps that out-perform and outlast all others.
Pumps 2000 pumps are made of engineered plastics, operate lubrication free and are light weight and manual handling friendly. Several patented features make it possible for Pumps 2000 to offer market-leading low life cycle cost while delivering outstanding performance in the harshest environments as these pumps were designed specifically to handle abrasive, solid-laden and corrosive fluids.
The product ranges includes applications for underground use, slurry or clean fluid transfer, a range of chemicals, continuous or occasional explosive atmospheres, fixed or portable installations. Whether your application is related to General Industry, Marine, Mining, Building and Construction, Food Processing, Chemicals or Pollution Control, there's a Pumps 2000 solution that's right for your particular needs.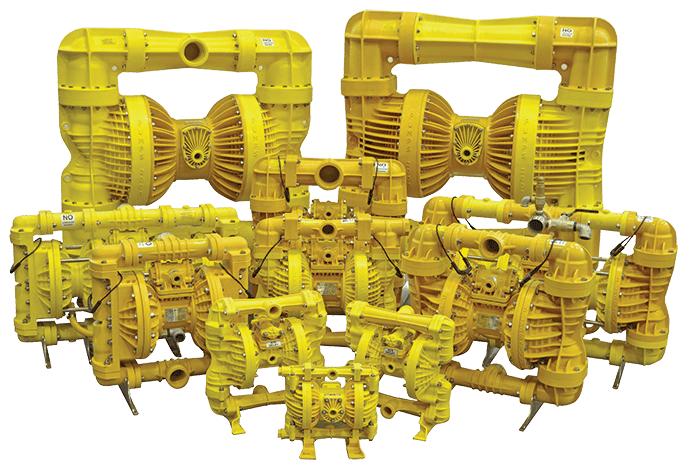 ATEX certified pumps, suitable for general water and slurry conditions, salt water, some low PH acid applications, applications requiring food grade approved materials of construction and more. The Yellow series has an ATEX M2 rating. The pump housing is made of a nylon blend and the internal elastomers are hytrel.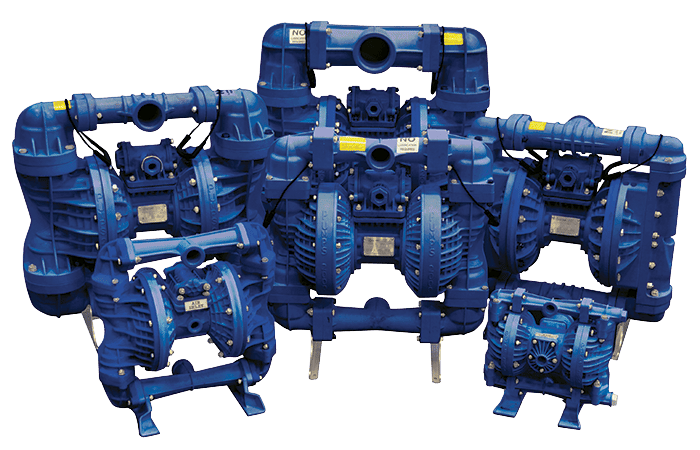 ATEX certified pumps suitable for a wide range of acids, caustics and other chemicals. The Blue series pump housing is made of a polypropylene blend and the internal elastomers are santoprene.
Our High Volume Pneumatic Diaphragm pumps and innovative line of portable diaphragm pumps originally designed at the request of the Australian mining industry, has been featured in Modern Pumping Today. Learn about our origins, unique in house manufacturing capabilities and specially engineered pump designed for maximum reliability and to reduce cost and increase productivity in all industries.
Pumps That Outlast All Others
The unique design of Pumps 2000 pneumatic diaphragm pumps is based upon more than 35 yrs. of experience with design and manufacture of non-metallic mining equipment. Benefits that have made Pumps 2000 a leader in mining pumps have now been discovered by the industrial and maritime markets.
The need for tough, corrosion resistant, solids handling diaphragm pumps that provide greater capabilities, reliable performance, lower air consumption, low noise levels and light weight has led to users in automotive, ceramics, chemical, coatings, construction, food processing, marine, oil & gas, pharma/personal, pulp & paper and waste water etc.
Reliability & Long-Life Operation
Pumps 2000 offers a complete redesign of the diaphragm pump with patented design components resulting in operational life and consistent reliability far beyond what is available in other pumps with no practical end of life. You will save on maintenance, labor costs and replacement pumps while improving the overall efficiency of your operation.
Large Particle Handling
Pumps 2000 unique slurry pumps allow particles of various types and sizes to pass through the pump unobstructed. If there's enough liquid to carry the solids, Pumps 2000 slurry pumps get the job done.
Low Air Consumption
Low air consumption is especially important due to increasing energy costs. With a lower air consumption to output ratio, Pumps 2000 pneumatic diaphragm pumps do a better job using less air than traditional pumps.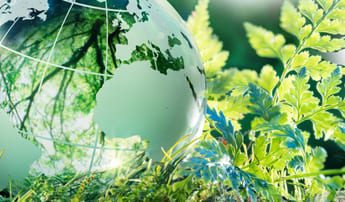 Lubrication-Free
Pumps 2000 pumps use plastic components that are low-wear and low-friction to give you lubrication-free, longlife operation. Save on spare parts, oil, time and labor expenses.
Explosion Proof
All Pumps 2000 pumps are ATEX M2 Certified and our FRAS (flame retardant antistatic) pumps are ATEX M1 rated giving you the highest explosion proof rating.
Light Weight
Correct use of plastic materials enables Pumps 2000 to offer the lightest diaphragm pump on the market reducing the risk of lifting-related workplace injuries. Their light weight allows you to re-locate and maintain pumps quickly and easily.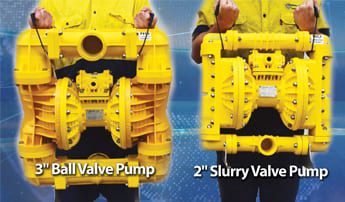 Safety
Pumps 2000 achieves the highest level of safety with industry leading low weight and low noise levels, ATEX certified materials, corrosion proof all-plastic pumps and FDA grade materials to ensure compatibility with a wide range of fluids and powders.
Ease of Maintenance
Pumps 2000 pneumatic diaphragm pumps contain a minimal number of components. Because they contain few parts, with different models sharing many of the same parts you will have no headaches when it comes to maintenance.